Archive for the 'Governance' Category
Vuvuzela supporters are causing a stink — a cacophony? — with their insistence on using the instrument during the World Cup next year. And now Motoaki Inukai wants Fifa to ban the instrument.
I'm no law expert and these are only my personal views but the supporters seem to believe their right to making as loud a noise as possible is an inalienable right. There are few such rights — life, dignity, health, freedom and equality. Inflicting pain and suffering on someone else's eardrum doesn't strike me as one of those rights.
Some claim the vuvuzela is uniquely African. Alas, it seems that the instrument is uniquely American and Chinese.
Anyway.
When two rights oppose each other , eg, your right to smoke and my right to clean air, we have a problem. Sure, you're allowed to smoke. But my right to a clean environment trumps your right to smoke in this instance. My right to quiet enjoyment of my property trumps your right to play doof doof music at any time of day. And my right to clean air trumps your right to wear perfume that constricts my throat.
So why is it that this is not common knowledge? Why are people quick to point out that I'm infringing on their rights? And why the defensiveness? Perhaps it'd be a great idea to go back to Emsie Schoeman's etiquette guide.
I read a post about perfume in the workplace and one commentor sums it up nicely:
I foresee the same thing happening to fragrance wearers that happened to smokers. At least banning the use in the workplace and using natural deoderizers (baking soda, etc.) and fragrance free cleaning products. Unfortunately we are the ones who are in the forefront of this revolution similar to the suffragettes who fought for the right for women to vote.
South Africa does not have enough legislation to cover those of us who feel our rights are being infringed. Nor are enough people, organisations and companies aware of the problems. All too often, people are told to suck it up; the offender will not change their behaviour(s). This needs to stop. It's time to recognise that we all need to be more considerate of other people. And sometimes that means forgoing or altering certain of our behaviours or products.
Get free updates to my blog with my RSS feed and follow me on Twitter. Leave a comment below to get involved in the conversation.
My Political Views
I am a center-left moderate social libertarian
Left: 1.86, Libertarian: 2.67

I did this test in January 2009 and it told me I am a center-left moderate social libertarian. I wondered whether my views on these issues had changed since January…so I took the test again today.
My Political Views
I am a left moderate social libertarian
Left: 6.58, Libertarian: 1.77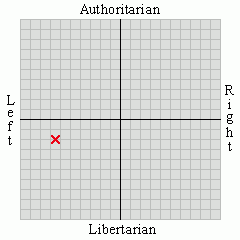 It's a difficult test because you can't make decisions in a vacuum; context matters. And all our decisions are tainted with bias, whether we'd like to admit it or not. Another factor that makes it difficult is when you want to tick the 'liberal' or 'libertarian' answer but know that it would be intellectually dishonest to do so. So you remain neutral, for fear of being outed as a 'conservative'. Yes, even to yourself. Eep.
This test scores you on how you feel over certain civil issues: personal freedom; government and church involvement in everyone's lives; the economy; and nationalism.
Go take the political spectrum quiz and see how your views had changed since Pol Sci 101. I'm surprised to see that my views have shifted more towards the left. And I've always thought of myself as a liberal. Funny, eh?
Get free updates to my blog with my RSS feed or follow me on Twitter. Leave a comment below to get involved in the conversation.
I'm a bit late to this — 2 months or so. Helen Zille wants to debate the meritoriousness of providing state funded health care to those who make wrong lifestyle choices. Jack Bloom has a piece on this in today's Politicsweb.
She starts off OK by talking about deaf people who need better assistance. This is a valid concern but then she mentions how the state cannot — and shouldn't — afford to provide medical assistance to those who had inflicted the conditions on themselves.
There is a growing assumption that people have the right to behave as they like, and the state has the responsibility to pay for the consequences.
This is a fair point; however, there will always be a few who take advantage of things, especially things that the government provides.
Thus we spend 80% of the public health budget on the consequences of personal "life-style choices" ranging from unprotected sex, to alcohol and drug abuse, and the resulting trauma and violence.
Unprotected sex happens in marriages, too. It's impossible to tell who got infected with HIV through their own carelessness. Why wear a condom if I believe that my spouse is faithful? And there are still many rape victims who are too ashamed to admit they had been raped; would these women ask for free Anti-Retrovirals when they'll have to prove that they are blameless?
Consider two extreme examples. First, a healthy young man, fully aware of the dangers, nevertheless has unprotected sex with multiple partners. He gets Aids and asks that the state should give him antiretroviral drugs free of charge. Should the state provide?

Second, a baby is born partly deaf. Her parents ask that the state provide her with a hearing aid because they cannot afford it. Should the state provide?
We should give both free medical care. We can't afford not to. The young man might go on to infect many other people if he doesn't get treated. There's no reason to believe that he will use condoms henceforth. And what's to stop the young man from claiming that he got infected through some other method? Who's going to investigate?
There must now be an equal emphasis on responsibility. The more we spend on treating preventable illnesses, the less there is for the unpreventable conditions that confront many of our citizens with severe challenges throughout their lives.
This is true but let's also have a debate on which diseases are preventable and which are unpreventable. In that way we'll have greater clarity. Where do we draw the line? The DA's arguments are specious and illogical. The people who would be the most hurt by such policies would yet again be women and the poor. Not acceptable.
Mormons live a decade longer than other Americans. Is this because doctors who treat Mormons are better, or because Mormons avoid a lot of things that shorten people's lives?
I'd like to see the source for Jack's statistic.
Smokers have a tough time in Britain's National Health Service as they are often denied heart surgery when over a certain age. Obese people are sometimes denied joint replacements. These decisions are defended on clinical grounds, taking into account risk factors and chances of survival.
This sounds like an appeal to popularity claim to me; they're doing it over in the UK so let's implement it here, too. Yes, we're allowed to look at what other countries are doing and adopt their practices — but only if it makes sense, ethically and financially.
The debate we should be having is one about mismanagement of money, ie, corruption and theft. And let's not forget about the poor salaries, which may be why state hospitals struggle to attract and retain staff.
Let's give everyone an equal opportunity, whether they had intended to inflict pain onto themselves through bad lifestyle choices or not. Because, really, who lives a perfect life, full of the most perfect health choices?
Get free updates to my blog with my RSS feed or follow me on Twitter. Leave a comment below to get involved in the conversation.