Archive for November, 2009
[youtube=http://www.youtube.com/watch?v=tQ5VaBgXzuM&hl=en_US&fs=1&]
I'm sure I don't need to evangelise the concept of one writer or blogger linking to others. I'm sure that many of you know that linking = good. It's a great way to add depth to an article and you're also helping to sustain the internet linking community. So I'll touch on a related topic, which should be one of those Blogging  fun-DOH-mentals. It's something that schools should teach. It's so easy –link unto others as you would have them link unto you. Good linking "sends people away to keep them coming back." Linking also helps our readers to tailor-make their internet reading adventure, sorta like those 1990s choose-your-own adventure books that I loved.
Link to the idea, not to the person
It's frustrating when I'm reading your post on oh, I don't know, 50 Ways to make your colleagues love you more effectively, and you mention something interesting but you neglect to link to the article, Youtube video, or Tweet. Instead of doing this you link to the person who wrote the article, posted the Youtube video, or wrote the Tweet. This means that I need to do a quick Google search for the relevant piece. It's not a great user experience for me. Help me to save time and I'll be devoted to you. I'll proselytise and evangelise your website or blog simply because I like to think of myself as an information curator. And I love sending people links to stuff that's useful. Let's hope your site is next.
Another reason why this is a good idea is that it promotes deep-linking. But this places some responsibility on you the blogger — ensure that the site allows deep-linking and that your readers will go to the exact page you had intended them to go to.
Link only when needed
You don't need to link to every single name, idea or Youtube video; only link to those that would benefit your readers the most. Gratuitous links to your blogging buddies only benefit them, unless their websites offer such amazing thought, content and entertainment value that you have to link to them. A link to an A-list blogger might get you noticed — they, too, check their stats. Practise restraint when linking out try to keep it fun and informal. No need to cite MLA or The Chicago Manual of Style; be as informal or formal depending on the type of writing you do.
Keep the reader's flow at a constant level
Sometimes you're writing a rant or a stream of consciousness piece of writing that doesn't need linking to others. Then you don't need to link. Unless you want to add more depth to your writing.
Use original link text
'Click here' tells your reader nothing about where the link will take them. Tell the readers something about the destination by using link text that describes where the new link will take them. You don't need to know much about HTML to do this, either; most blogging platforms — I use WordPress — help you to format correctly. And there are many web tutorials that you can use to learn HTML. I used W3Schools and love it. It's so useful to know HTML, even if it's just the basics.
Underlining does not belong in internet documents
Your users will want to click on the underlined text and be disappointed when they realise it isn't a link to a site that'll solve all their problems. And there are many other linking practises that you want to embrace or stay away from.
Please, no links to categories
Big online newspapers are the ones guilty of this. I am sure that it has some benefits for both the newspaper and for its readers. But which is better –  newspapers linking to categories within the text or our [learning how to] using the search box ourselves. Because that's what these categories are. I'd rather that they, like blogs, use drop-down category boxes.
Twitter replies

This doesn't really belong in my list. But I'm gonna touch on it regardless because I see so many people who are unaware of the convention. Twitter allows you to reply to a tweet by clicking on 'reply'. This applies to all Twitter clients, even to cellphone applications. Please use it. It helps to keep tweets in context, especially when you're replying to one of my tweets. And then I don't need to reply with a 'huh?' to your tweet. This function didn't work on 13 November but Twitter has fixed it since then.
One link to rule them all

So you're writing about your company, blog, new book on Amazon, etc etc etc. One or two links to it is OK; anything more is overkill. Trust me, I saw the first link. I saw the second link. And my eyes are hurting from looking at the 435 other links in your blog post/article. Less is definitely more in this instance.
My Political Views
I am a center-left moderate social libertarian
Left: 1.86, Libertarian: 2.67

I did this test in January 2009 and it told me I am a center-left moderate social libertarian. I wondered whether my views on these issues had changed since January…so I took the test again today.
My Political Views
I am a left moderate social libertarian
Left: 6.58, Libertarian: 1.77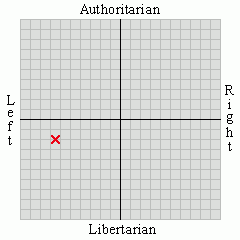 It's a difficult test because you can't make decisions in a vacuum; context matters. And all our decisions are tainted with bias, whether we'd like to admit it or not. Another factor that makes it difficult is when you want to tick the 'liberal' or 'libertarian' answer but know that it would be intellectually dishonest to do so. So you remain neutral, for fear of being outed as a 'conservative'. Yes, even to yourself. Eep.
This test scores you on how you feel over certain civil issues: personal freedom; government and church involvement in everyone's lives; the economy; and nationalism.
Go take the political spectrum quiz and see how your views had changed since Pol Sci 101. I'm surprised to see that my views have shifted more towards the left. And I've always thought of myself as a liberal. Funny, eh?
Get free updates to my blog with my RSS feed or follow me on Twitter. Leave a comment below to get involved in the conversation.
There is sexism in language, it does enhance the position of males, and males have had control over the production of cultural forms. (Spender 1985: 144)
Sexist writing takes one of a few forms: you could assume that all your readers are men or you could use gender essentialist views of women and men.
Why does this matter? Surely, women have made many advances in the last 100 years? And surely, no-one means to subjugate women by something as simple as language?
My answers: it matters because women are human beings. Women and men should receive the same social, political and economical treatment. Yes, women have made many advances over the last century  or so. But that does not mean that the process is finished: we still need to eliminate much man-centric language and thought processes. The former will only happen once the latter – modifying our thought processes – becomes the norm. And changing our thought processes is dependent on changing our language; the one cannot happen without the other.
And yes, most people do use [sexist] language innocently but that is a poor excuse for using sexist language.
I recently started reading Die Burger again and was offended at the subtle jabs at women in this Afrikaans daily: journalists write of companies, the SA government and processes as 'he', 'his', and 'him'.
I had a look at my copy of the Afrikaanse Spelreëls but I couln't find any rule that promotes the use of the male pronoun when writing of inanimate objects.  And even if there exists a rule such as that, surely Afrikaans – and, by extension, Afrikaans editors – should change the 'convention' to something more fitting the 20th century? Surely we should lobby the Afrikaans media to change their writing style to include, and not exclude, women.
One of the excuses apologists offer for using sexist language is that it's a reflection of today's society. And that's where they leave it; they'd rather not try to change the language – that'd be too drastic and would give to much power to the 'PC brigade'.
I wrote Henry Jeffreys, Die Burger's editor,  a few emails – first email on 17 August – and only received a response from Hendrik Coetzee, Die Burger's ombudsperson, on 2 September. He offered one reason why they support the male hegemony: it has been thusly decreed by the compilers of Afrikaanse Woordelys en Spelreëls and Sakboek van Regte Afrikaans.
Here's the problem I have with that argument: it's lazy and does nothing to change the status quo; instead, it approves of, and justifies women's oppression. Another excuse Hendrik offered was that other languages — English, French, Dutch — use sexist 'conventions'; therefore, it's OK that Afrikaans follows their example.
I wrote an email to Die Suid-Afrikaanse Akademie vir Wetenskap en Kuns and received – instantly! – an email from Professor van der Elst: he's referring this issue to Professor Kotze, the head of their language commission. Professor Kotze doesn't agree: he reckons that this has nothing to do with sexism; it's part of the language conventions.
Professor Kotze from Nelson Mandela Metropolitan University answered one of my many questions about the gendering of pronouns. I wasn't satisfied with his answer and tried to prod a bit more. And then he wrote an incredibly patronising email to me – and to me alone; he had not CC the other respondents in on this last mail – with the hopes that I'll have a wonderful life: "Sterkte met u lewe vorentoe." It is OK for him to disparage me; however, it is not OK for me to be offended at his actions.
I'll try to contact a few Afrikaans and Women's Studies professors to see what they think.
I don't know whether they'll agree with me that this is sexist; many women are indoctrinated by society — they don't see sexism. And they are some of the key people we need to speak out and voice their disapproval — if they do disapprove after they had given the issue deep thought. Your organisation or company needs an anal grammarian to obsess over everything you send out – to internal as well as external clients. But this person needs to be progressive, or at least aware of all the -isms out there.
So many of us wordophiles — my word — obsess over whether to use may or might; few of us obsess over non-ableist language. A few of us claim to watch our sexism but how many have a definitive stance on which term is more appropriate — gypsie or Roma? How many are there who still use 'men' and 'guys' as generics?
I'm not sure what to do next. The gatekeepers have spoken and I feel powerless. I feel powerless because of my inability to have a conversation with them without getting told off for my tone. I feel powerless because of the lazy arguments they use to justify the language rules. And I feel powerless because far too often I have to hear how I should rather fuss over more 'worthy' things. What those things are I don't know.
For a far more intellectual discourse on how language affects our reality, read this University of Stanford article and this Shakespeare UK pdf.
Get free updates to my blog with my RSS feed or follow me on Twitter. Leave a comment below to get involved in the conversation.
This video will change your life. And not just a small part of your life; it will change how you see South Africa; it will change how you see 'developing countries'; and it will change how you see America.
Watch how Hans Rosling, professor at International Health at Karolinska Institutet  and the director of Gapminder Foundation, talk about how 1) ordinary people rarely talk about government data and 2) how 'developing countries' have made far bigger advances than we would like to give them credit for.
[ted id=92]
I'm excited. Charles Ash from Bruin-ou asked me whether I would like to write a column for his new-look website. I said "I do" and now I'll write an article a week.
My column's title is Coloured in the City, named after one of my favourite tv show, Sex and the City. And yeah, I'm bracing myself for the big ass debates — rows? — that will follow. But in a good way
Get free updates to my blog with my RSS feed or follow me on Twitter. Leave a comment below to get involved in the conversation.

Get free updates to my blog with my RSS feed or follow me on Twitter. Leave a comment below to get involved in the conversation.
So I've always known that I'm a great writer. And that has made me just a wee bit cocky. I started this blog as yet another outlet for all the thoughts that run around inside my head. They're probably training for the Olympics or something. But then I get writer's block.
Because I think to myself that everything's already been said. It doesn't help that I read the usual bunch of progressive blogs such as Feministe, Feministing, Alas, The Curvature, etc. They're all awesome writers, they write about things that affect everyone, and they do so with a certain je ne sais quoi.
So then I get writer's block and I turn it around in my hands. I ask it why I feel this way. I ask it when I'll get to say something original. I ask it why I can't be as feisty as those writers.
And then writer's block responds. It tells me that there are many South Africans who've never heard of Feministe, Feministing, Alas, The Curvature, etc. It tells me that there are many South Africans who will never read those blogs. It tells me that it's my job to bring progressive thought to the South Africans who read my blog. It tells me that very few people know that they have a choice. Very few people decide to delete the email that the system sends them about masculinity and femininity. Most of them leave it in their inbox. Very few people know about the alternatives: gender and sexual fluidity, childfree living, polyamory, communal living, living without a car, and many others.
And then I thank my writer's block. I put it back in its box and I put it at the very far end of my cupboard. Until next time.
Get free updates to my blog with my RSS feed or follow me on Twitter. Leave a comment below to get involved in the conversation.